If you are responsible for the success of your restaurant's operations, you should know how to utilize two-way radios for restaurants. In this article, we will explore how and why restaurant walkie-talkies can help your business thrive! We will also present a couple of our picks of the best two-way radios for restaurants.
The "How and Why" of Restaurant Walkie-Talkies
Restaurants are one of the most challenging businesses to operate. A restaurant operator can only make money as fast as they can turn tables. They have to seat them, serve them, and get them out of there as quickly as possible to maximize earnings. And they have to do this so smoothly that the client remembers a very satisfying experience!
One of the best ways a restaurant operator can achieve this ultimate experience for their diners is to maintain clear and concise communication between every team member! This is best achieved by the use of restaurant communication devices.
Restaurant walkie-talkies and accessories can make a huge difference in connecting the service team. From the host and waiters to the cooks and kitchen staff, everyone can know what's happening AS it's happening!
Below are some of the ways 2-way radios can improve the efficiency of a restaurant's operation.
Increase the Safety of Your Staff and Patrons
Because everyone on the staff knows what's happening as it's happening, all of the staff can immediately start working to alleviate an emergency. The staff in the front of the house will know as soon as a kitchen fire begins in the back of the house and can immediately begin dealing with the problem.
Likewise, the kitchen staff will know immediately if there's an unruly patron in the front of the house and can come out front to help.
Some two-way radio models can even be programmed to contact police and fire at the touch of a button!
Exceed Your Patron's Expectations
With the competitiveness of today's restaurant business, a patron getting their food fresh, hot, and fast is no longer a luxury, it's an expectation! Delivering the extras is where an operator has a chance to exceed their patron's expectations.
The extras can include filling glasses when they are half empty, cleaning up spills quickly, checking on the satisfaction of the patron at just the right time, replacing napkins if needed, and more.
The use of restaurant walkie-talkies is like giving a waiter multiple eyes on his or her patrons. A passing busser might notice low drink levels at a table and immediately contact the waiter for that table. Another waiter might notice that a patron took only one bite of their entree and can immediately notify that table's waiter.
With multiple eyes on patrons and immediate communications, you will exceed your patron's every expectation!
Lower the Noise Level in the Serving Area
Too much ambient noise in a restaurant can be a big distraction for patrons who are looking for a nice quiet dinner conversation. Shouts from a chaotic kitchen, staff calling to each other from across the dining area, and other elevated staff conversations all serve to drive up the ambient noise in the room.
Restaurant walkie-talkies and the best restaurant headsets will lower the ambient noise in both the kitchen and the dining area! The staff will be able to talk at normal conversation levels and clearly hear each other throughout the restaurant.
Quicker and More Efficient Operations
Ask any restaurateur and they will tell you that the faster you can turn tables, the more money you will make! It's all about getting them in, keeping them happy, and getting them out!
The use of restaurant walkie-talkies is your best tool for increasing speed and efficiency. With the increase in speed and efficiency will come an increase in ticket counts, especially during your busiest times.
Some of the ways you can increase ticket counts with walkie-talkies include:
Dropping menu items that take the longest to prepare as soon as the patron orders. The waiter has a direct line to the cook and can immediately inform them of the item ordered.
Cleaning up spills almost as soon as they happen.
Keeping the entire staff aware of what's happening in both the front and back of the house.
Allowing management to be aware and in contact with everyone on staff at the same time.
An investment in two-way radios for your restaurant will pay for itself in no time and will quickly begin paying dividends! Faster and more efficient will help you add to your bottom line in the following ways:
Efficient operations mean faster table turns and more patrons served.
Efficient operations and more patrons mean more top-line sales.
Efficient operations translate into fewer employees and lower labor costs.
Efficient operations translate into lower food costs from waste.
Efficient operations mean more of the top-line sales make it to YOUR bottom line.
The Best Two-Way Radios for Restaurants
Asking someone what the best two-way radios for restaurants are is like asking someone what is the best car on the market! It depends on your specific needs. However, there are a few quality two-way radios that are especially well-suited for the restaurant environment. Listed below are some of the more popular choices and the reasons why they are.
The Motorola Solutions CP185 Portable Two-Way Radio
Ideal for educational institutions, retail and hospitality businesses, service and manufacturing industries and many other demanding, professional applications, the Motorola CP185™ brings you a robust two-way radio solution. The CP185 has an extensive feature set including built-in voice scrambling for increased privacy, VOX capability for hands-free communication, 5 programmable buttons and X-Pand™ Technology to provide crisp, clear and strong audio quality even in noisy environments. Combined with the compact, lightweight design of the CP185, you get just what it takes to enhance communication while increasing productivity.
Features at a Glance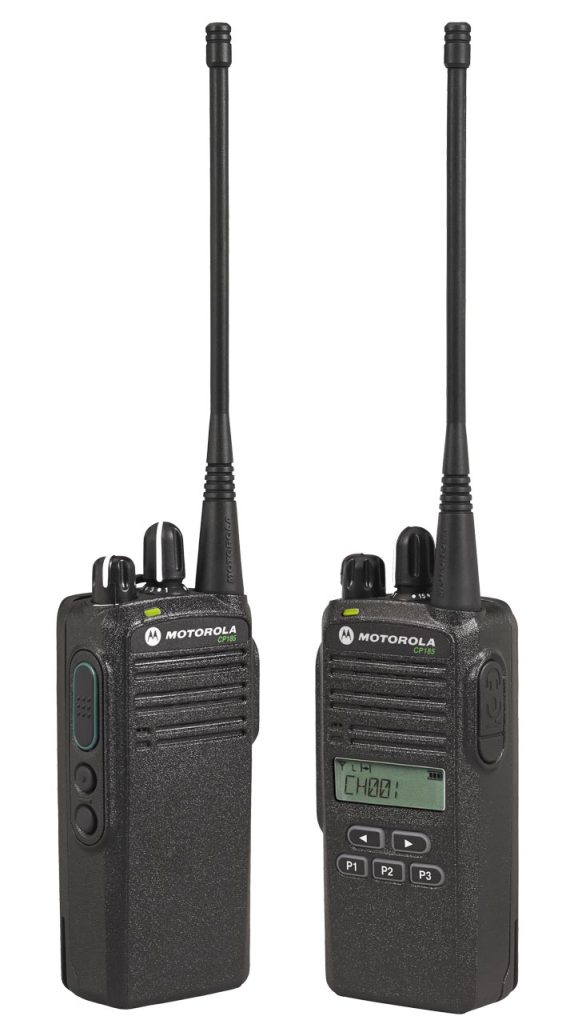 MILITARY STANDARDS
Meets Military 810 C, D, E and F standards to stand up to the most demanding conditions

MULTI-CHANNEL CAPABILITIES
16 channels to support communication among all. For use in larger venues when increased coverage is required

REPEATER CAPABILITIES
For use in larger venues when increased coverage is required

TALKAROUND CAPABILITIES
Enables communication even when a repeater is not being used

ADJUSTABLE POWER LEVELS
Adjustable high and low power levels (5 watt: VHF; 4 watt: UHF) help extend battery life

BUILT-IN SIMPLE VOICE SCRAMBLING
Increase the privacy of your conversations
COMPACT, LIGHTWEIGHT DESIGN
Makes it easy to handle and use
DTMF CAPABILITIES – CP185 MDC (No Keypad Model)
Provides transmit/receive voice selective call, call alert, transmit PTT ID; Quik-Call II: Receive voice selective call, call alert

MDC1200 CAPABILITIES
Provides caller ID, radio in-range check and radio inhibit decode in CP185 MDC No Keypad and Limited Keypad Models

PROGRAMMABLE BUTTONS
5 programmable buttons enables easy, one-touch access to up to 10 user-selected

TIGHTER SPECIFICATIONS
70 dB adjacent channel selectivity provides enhanced rejection of interference from strong signals on adjacent channels so you can get your message through clearly

VOX CAPABLE
Enables hands-free communication so you can focus on the job at hand

X-Pand™ TECHNOLOGY
Provides crisp, clear and strong audio quality even in noisy environments
Recommended Restaurant Headset Accessory:
Motorola PMLN5001 Shell Earpiece
Model Number: PMLN5001

Pellet-style earpieces allow users to receive communication discreetly. The comfortable design is ideal for extended-wear use. This D-shell earpiece also features an in-line microphone and Push-to-Talk functionality.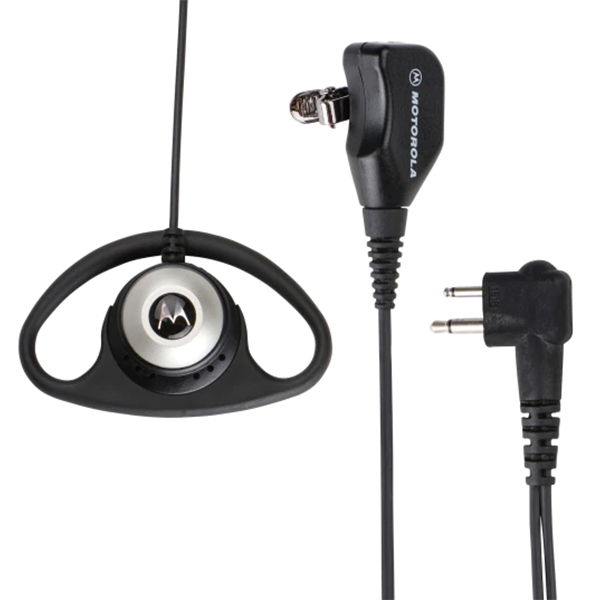 The MOTOTRBO CP100d Series
The MOTOTRBO CP100d Series is a range of practical, entry-level digital radios for professionals wanting to communicate with greater ease and efficiency. The affordable CP 100d radios offer all the benefits of digital technology – up to 35% longer talk-time, twice the voice capacity in a 12.5 kHz licensed channel, wider radio coverage and superior audio. Simple and effective for the light user who values ease and efficiency, the CP100d offers analog voice communications and MOTOTRBO digital when you're ready — for a straightforward path to digital migration.
1 Features only available in Digital mode
FEATURES-AT-A-GLANCE
Analog / Digital Voice Communications
Dual Capacity Direct Mode
Transmit Interrupt (Decode Only)
Pre-Programmed Text Messaging
Voice Announcement
Digital Mobile Radio (DMR) Standards Compliant1
IP54 Rated
1 Features only available in Digital mode

Recommended Restaurant Headset Accessory:
Motorola BPR 40d Portable Two-Way Radio
Lightweight, powerful and affordable, with DMR II support

The Motorola BPR 40d radio supports analog communications for simple push-to-talk voice. It also supports the Digital Mobile Radio (DMR II) communications standard, for clear, static-free voice connections, even at the edge of your radio coverage. Long battery life means continued communication that lasts an entire shift. Rugged and IP54 water-resistant for worry-free operation, while the radio's two-year warranty brings peace of mind.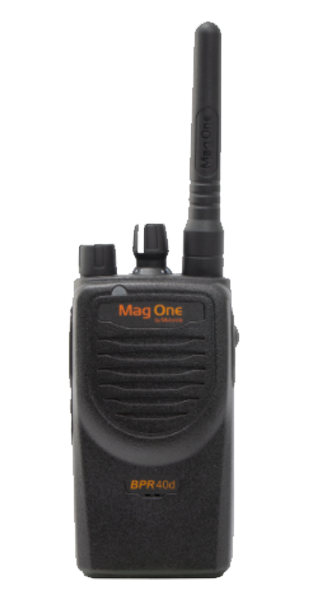 FEATURES-AT-A-GLANCE
Clearer audio, better performance
When it comes to exceptional audio clarity, the quality of digital cannot be denied. The CP100d Series radios give you digital audio performance throughout your coverage area. The digital voice processing with enhanced call signaling ensures faster and more reliable calls. When your workers cannot be distracted, voice announcement provides audible confirmation of channel changes, as well as programmable buttons that eliminate the need to view the radio display.
Increased efficiency without increased costs
Powered by the Time Division Multiple Access (TDMA) digital technology, your CP100d radios provide twice the calling capacity as analog for the price of one frequency license. The CP100d Series features the Dual Capacity Direct Mode that unlocks the full capacity of your digital radio system by doubling your channels without the cost of a repeater and its associated infrastructure.
Versatile solution for today and tomorrow
Offering between 16 and 160 channels, the CP100d Series includes radios with limited keypad and non-keypad, as well as, display and non-display models. The ability to operate in both analog and digital modes also makes it easy and affordable to adapt your new digital radios to work along with your existing analog radios. You can migrate to a digital two-way radio platform at your own pace.
Recommended Restaurant Headset Accessory:
Motorola Mag One Swivel Earpiece With In-Line Microphone and PTT
Model Number: PMLN6532A
SWIVEL EARPC W MIC/PTT MAGONE
This earpiece features an over-the-ear design with in-line microphone and push-to-talk. This Mag One earpiece is small and comfortable, and it enables you to discreetly send and receive messages from your two-way radio.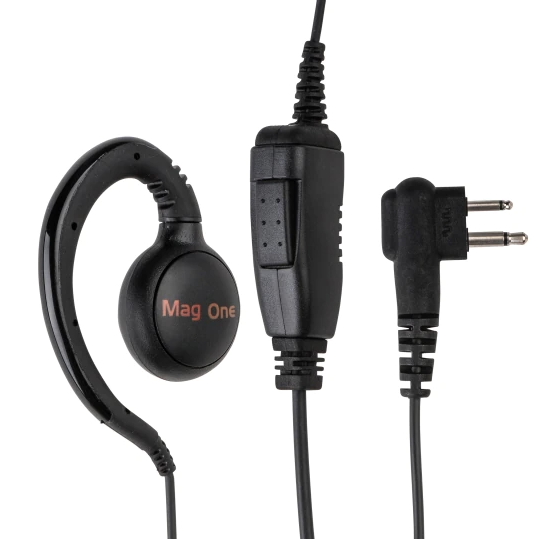 Utilizing Two-Way Radios For Restaurants
Two-way radios are a great tool for bustling restaurant operations! With so much happening so quickly, the staff must maintain clear and concise communications at all times during busy lunch and dinner runs.
If you are responsible for the success of your restaurant's operations, we strongly recommend that you contact the experienced team at RCS Communications and let them show you how to utilize two-way radios for YOUR restaurant!