Mass notification alert systems exist to protect people and save lives.  Whether there is an active shooting, severe weather event, or site emergency situation, a system must be in place to warn of dangerous incidents for your customers, staff, general public.
For example, if there was an active shooting at the school.  How would staff, students, and teachers be warned and unwittingly put themselves in danger?  If there is a tornado warning or a wildfire in the area, how would people know to evacuate or prepare for the event without a mass notification alert system?
American Signal Corporation has state-of-the-art mass notification solutions to save lives.  A NextGen Control Station connects to both indoor and outdoor sirens.  They provide outdoor digital signage and indoor alerts to message boards.
For today's technology, the NextGen control station can send alerts to phones, computers, pagers, emails, texts, and social media.  No one should be left out of the loop in the event of a disaster or weather event.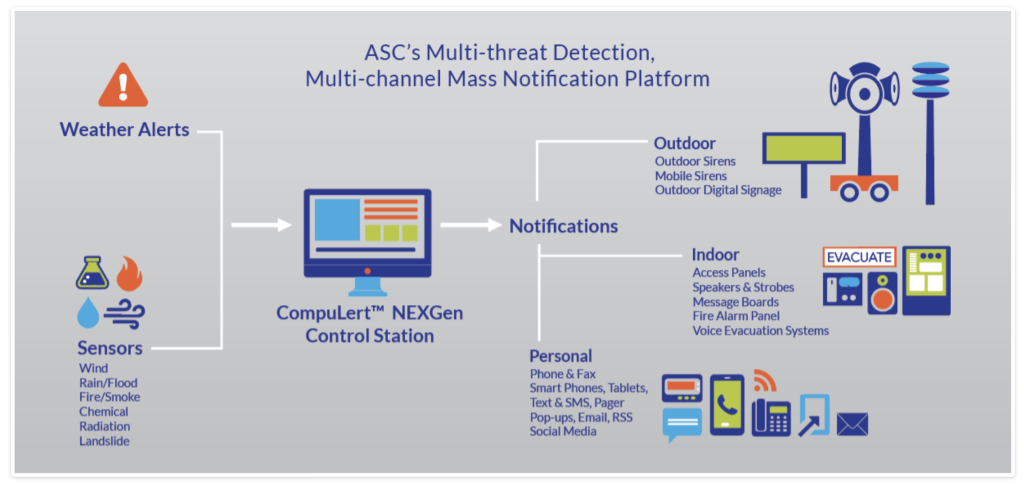 Industries that need mass notification system are ones that are susceptible to dangers from mass shooting events, natural disasters, and emergency situations. Some of the top industries are:
Schools & Colleges
Government
Manufacturing and Industrial Businesses
Military
Active Shooting Situation 
The active-shooter events, of course, target places where masses of people congregate.  These places can be school campuses, churches, malls, large workplaces, and military bases.
Once an active shooter is identified, access panels, speakers and strobes, message boards, texting and SMS, and/or voice evacuation systems can be activated for people to take cover and/or evacuate safely.  The alerts not only notify people in the area but, also, outside the area to stay away.
American Signal Corporation provides the ability to control alerting across campuses, indoors and outdoors, with refined messaging and notifications, all from a mobile command center. ASC's campus emergency alert system has outdoor warning sirens, computer network alerts, and cell phone technologies to warn the people in the area of threat.  To warn people away from the area, ASC can use smart boards and digital signage.
Natural disasters like tornados, hurricanes, and large storm events that can cause flying debris, floods, property damage, power outages, schools to be closed, and essential services like public safety and hospitals to be delayed or unable to respond. Natural disasters can damage infrastructures like power plants, water treatment facilities, natural gas providers, grocery stores, and other essential need providers.  People would not be able to get these essential needs for days or weeks.
Outdoor sirens, text and SMS, emails, and social media warnings can alert populated residential and commercial properties of the impending natural disasters. 
Imagine a scenario where you are alerted by a public warning siren that has gone off in your town. You pick up your mobile phone and see a news alert streaming across your device screen informing you of an industrial fire or major chemical plant incident has just occurred in a neighboring town. Within minutes, you're answering calls from your supervisor and colleagues. The main question on each person's mind is: "What do we do?"
The above would probably be a business owner or a crisis manager's worst nightmare. It's not surprising that it would keep you up at night. According to the 2019 Gartner Security and Risk Management Survey, only 37 percent of respondents indicate that they have a full implementation of an emergency mass notification system solution set up in their organizations.
With RCS Communications and our partnership with American Signal Corporation, you can entrust us to work with you to find the right solution for your environment, while keeping your employees, families, and community safe. Everyone benefits from a mass notification alert system. Contact us here at RCS for more information on American Signal Corporation's mass notification systems.